Special Events
Print
Office of Special Events
Information and applications for block parties, permits for banners, flags (American Flag displays), murals, signs, films, photograhy and special events as well as rentals of Ventura City Hall
Click here for the Special Events Office web page
4th of July Street Fair
The popular Downtown Ventura Street Fair on July 4th attracts 30,000 to 50,000 people. The Street Fair encompasses nine blocks of Main Street and several side streets and are filled with approximately 250 artisans, food booths, nonprofit organization displays and three stages of continuous live entertainment. For information call (805) 654-7749.
Olivas Adobe Music Under the Stars
The twilight music series presented in the historic Olivas Adobe Courtyard every Saturday from mid July through early September showcases top recording artists performing a worldwide range of music on a stage fronting a majestic wooden outdoor dance floor, hot catered meals and full beverage service. For information call (805) 658-4726. Visit the Olivas Adobe website
Rotary Club of Thousand Oaks invites you to sponsor or attend its 15th annual "Midsummer Eve Wine Festival" at the Hyatt Westlake Plaza on August 20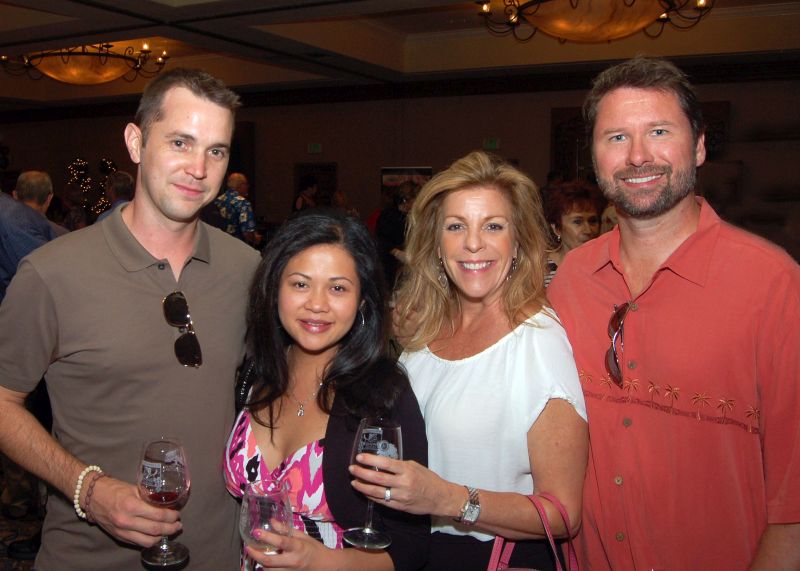 The Thousand Oaks Rotary Club Foundation will celebrate the 15th annual "Midsummer Eve Wine Festival" on Saturday, August 20, 2016 from 4 to 7:30 PM at the Hyatt Westlake Plaza, 880 S. Westlake Blvd., Westlake Village.
The event for adults ages 21 and up has raised over $600,000 since its inception to benefit the Ventura County Special Olympics and the Thousand Oaks Rotary Foundation, a non-profit that supports dozens of local charities and provides student educational scholarships annually.
1. To be a Sponsor - contact Roger Benson at 805.496.2099 or r-m-benson@att.net.
2. To donate auction items - contact Rick Hand at 805.368.4953 or emersonthe4th@gmail.com.
3. To purchase tickets in advance at $60 per person ($80 after August 1) and obtain donation forms visit www.midsummerevewinefestival.com.- Click here to print event purchase form
4. Get your $20 raffle tickets now by calling Roger Benson at 805.496.2099 to be eligible for 1st prize, a fabulous Pleasant Holidays 5-night stay at the St. Regis Princeville Resort on Kauai + $1,000 in cash, or 2nd and 3rd prizes presented by The Oaks Shopping Center and Mastro's Steakhouse. Click here to print raffle ticket form
At the festive event -
● sample acclaimed California limited-production handcrafted wines, microbrews and hors d'oeuvres
● experience live music and entertainment
● peruse and bid on a wide variety auction items and baskets donated by local businesses and residents
● meet Special Olympic and U.S. Olympic athletes including honorary co-chair Rafer Johnson, 1960 Rome Summer Olympics decathlon gold medalist and final torchbearer for the 1984 Los Angeles Summer Olympics

Special Olympics Ventura County offers free year-round sports training and athletic competition to over 800 children and adults with intellectual disabilities in 10 Olympic style sports at over 20 county sites.
The Rotary Club of Thousand Oaks has been a vital local service club since 1959 with over 140 men and women. The club donates more than $140,000 each year to many local and international charities to foster social, cultural, economic and environmental progress through its 501(c) (3) foundation.
For more information, contact Carol Freeman at 805.990.4750 or Roger Benson at 805.496.2099. The City of Ventura provides marketing support for this benefit for Special Oympics through a Community Partnership Agreement .with the Department of Parks, Recreation & Community Partnerships.
Mayor's Arts Awards
Since 2005 the Office of Cultural Affairs, on behalf of the Mayor, presents the Mayor's Arts Awards to recognize the contributions to the cultural community by City residents, artists, educators, organizations and business leaders.
The Big Read
The City of Ventura Department of Parks, Recreation & Community Partnerships, in partnership with the Ventura County Library, received a grant for The Big Read, a bold initiative designed to restore reading to the center of American culture by encouraging an entire community to read, discuss and participate in activities inspired by the featured book. The Big Read is a program of the National Endowment for the Arts in partnership with Arts Midwest www.NEABigRead.org.
Art Tales writers contest
Creative writers everywhere are invited to submit poems or short narratives inspired by six artworks from the Municipal Art Collect every year.
Click here for the Art Tales web page
City of Ventura Photography Contest
This annual contest open Januiary 1st to amateur and professional photographers of all ages celebrates life in our city in five categories. Submit jpg or png files online by November 1 of each year
Click here for the City of Ventura Photography Contest web page
Ventura City Hall Centennial
This former 1914 County Courhouse, restored as Ventura's current City Hall, celebrated 100 years of service for city and county residents in July 2014.
Click here for the Ventura City Hall Centennial web page
Ventura ArtWalk
Ventura's big weekend of self-guided tours of art galleries and street entertainment in July.
Click here for the ArtWalk website
Family Festival in the Park

THIS EVENT WILL NOT BE HELD IN 2014
Second Saturday in May | 9 am - 5 pm
Barranca Vista Park, 7050 Ralston Street, Ventura
Family Festival in the Park - Kids Swap Meet (9 am-12 pm) - Fairytales in the Park season opener Contact Kathryn Dippong Lawson: 805.644.6542 kdippong@cityofventura.net